Professional skier/adventurer
Yuichiro Miura
World's oldest mountaineer to reach the summit of Mt. Everest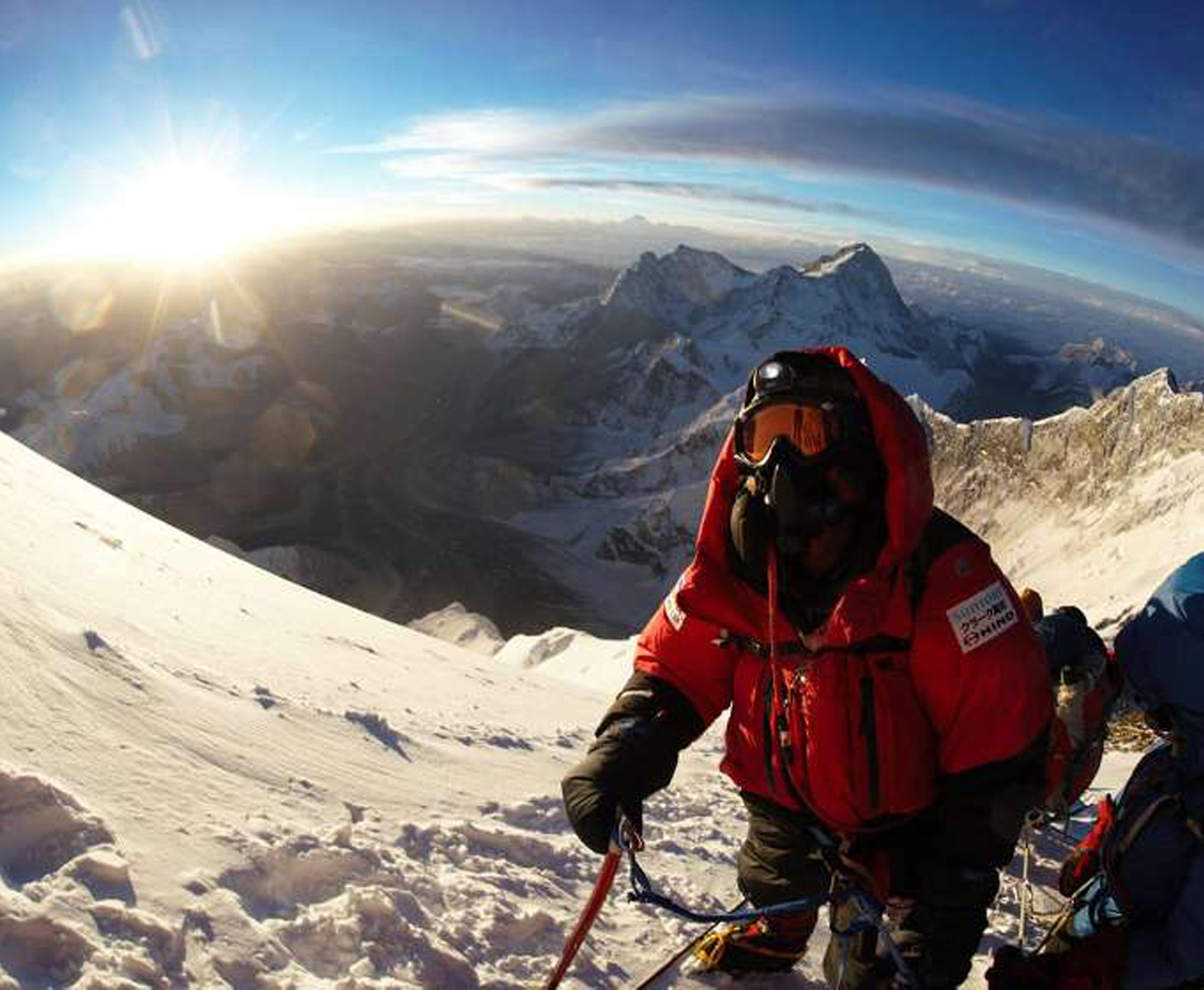 PROFILE
Born in Aomori in 1932, he became the first Japanese to participate in the Italian Kilometer Lance in 1964, setting a new world record at 172.084 km/h. In 1966, he skied down Mt. Fuji.

In 1985, he completed his skiing down of the highest peaks of the world's seven continents.

In 2003, he and his second son, Gota, reached the summit of Mount Everest, setting a world record for the oldest person to reach the summit at the time, at 70 years and seven months.

In 2008, at the age of 75, he reached the summit of Everest for the second time, and in 2013, at the age of 80, he reached its summit for the third time, breaking the world record for the oldest person to reach the summit.

In addition to being an adventure skier, he is also the principal of Clark Memorial International High School, with over 10,000 students nationwide. He also has numerous documentary films, photo books, and publications under his name.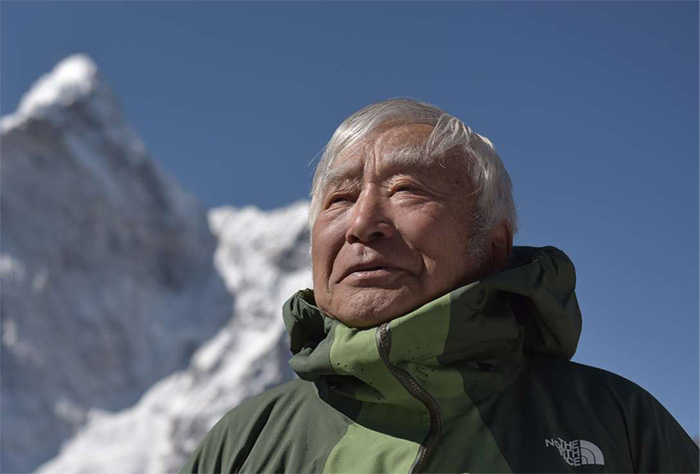 INTERVIEW
At the age of 80, adventurer Yuichiro Miura succeeded in reaching the summit of Mount Everest for the third time, making him the world's oldest person to do so. His journey to that point was marked by a series of unprecedented hardships.

After successfully climbing Mount Everest for the second time at the age of 75, he decided he would make a third attempt at the age of 80. However, the following year, he mislanded a ski jump and broke five bones, including his femoral head and pelvis. Doctors told him that he would have to be confined to a wheelchair. Still, Mr. Miura's determination was unwavering. "I will definitely recover. I'm going to heal and climb" – with this resolve in mind, he worked hard at a daily rehabilitation regime and after three years, fully recovered. He had completely overcome a situation that was considered irreversible.
However, Mr. Miura was again beset by difficulties. With only four months to go before his departure for Mount Everest, a chronic illness, arrhythmia, recurred, forcing him to undergo two operations. It was considered impossible for him to climb. But he set off for the Himalayas without changing his plans. It was a decision that surprised everyone.

Thus he began his third assault on Mount Everest, and encountered yet another series of struggles that were life-threatening. At the 5,000m base camp, the oxygen level in the air was already only 50% that at sea level. Even as he slept, his heart rate increased as if he was jogging. He couldn't sleep, his appetite decreased and his strength declined. Nevertheless, he still had to climb the Himalayan cliffs. It was far too daunting a challenge for an 80-year-old.

There was imminent danger of another avalanche. The wind swept, and it was hard to avoid flying stones. The temperature could reach -40 degrees Celsius. He constantly faced life-threatening dangers, and never knew what he would find around the next corner. Nevertheless, Mr. Miura continued to move forward, constantly monitoring his physical condition. When the wind would cease briefly and a fair sky could be seen, he felt at peace.

"I told myself that I would not give up," he recalls. "Even when I wanted to give up or wavered along the way, I always shook it off and kept climbing upward."

Finally he reached the summit of Mount Everest. He felt a surging sense of accomplishment like he had never felt before. The sky-piercing 6,000- and 7,000-meter peaks of the Himalayas, which he had looked up at from the base camp, were now visible below him. The Great Plains of Tibet as well as India were visible in the distance, and the magnificent mountains and landscapes of Earth spread out before his eyes. The view was forever imprinted on his mind.
In the Tokyo office, a panel of photos taken at that time is on display. They show breathtaking scenes that only a handful of people who have made the climb have experienced.

"On the summit of Mount Everest, there is only one-third of the air that exists at sea level, and even with in supplement oxygen, you can't stay for more than 30 minutes," says Mr. Miura. "However, I found myself staying an hour to admire and photograph the view. To be able to spend an hour on Mount Everest, the highest point on earth, was the most extravagant experience I've ever had."

In his office, he keeps the clothing and gear he used for his historic climb. His boots are so heavy and large that he can't lift them with one hand. A snowsuit seems to be many times larger than his body. With such heavy gear, which only the most fit could carry, he hiked for several dozen days in the snowy mountains and climbed the cliffs. Every single piece of gear bears the memory of his harsh struggle with nature.
An air-filled mountaineering down coat is reminiscent of a space suit.

Mr. Miura says, "The summit of Mount Everest is the closest place on Earth to outer space. If you put on all this gear and seal it, you can go into space."

It's hard to imagine what it's like to be in a place ultimately close to the outer space. Mr. Miura explains that to be in an environment so different from that of the sea level and to reach the summit of Mount Everest, all of his mountaineering clothing and all of his gear had to be the best in the world at the time. "What you see here is excellent gear for climbing. I selected it all strictly for its functionality," he says. A climber's life depends on the right gear.

Among Mr. Miura's gear was the Seiko Prospex, a special model developed at his request for its durability, legibility and accuracy. The words "Miura Everest 2013" are engraved on the side of the watch. For the adventurer who must follow a precise schedule, keeping accurate time can mean the difference between life and death.
"The watch has the highest specs ever," says Mr. Miura. "It didn't fail even in the harshest of conditions, even when wet and frozen in a blizzard. It's a wonderful watch that told me the time in the dark when I had to leave in the middle of the night and climb late at night."

The movement is equipped with the Spring Drive, Seiko's unique drive mechanism. Since it requires no batteries, it cannot be damaged or run out of battery during an ascent of Mount Everest, where temperatures fluctuate dramatically. In addition, it features increased shock resistance thanks to a unique regulating mechanism that uses the electrical signals of the IC and a quartz oscillator like those used in quartz watches.

To further enhance legibility, the hour and minute hands and indexes are thickly coated with Lumibrite, a phosphorescent paint that increases brightness. The case is made of lightweight and robust titanium. The crown is located at 12 o'clock.

Explains Mr. Miura, "I asked for this position so that it would be easy to operate while climbing, and wouldn't interfere with wrist movements or get caught in the ropes. It's truly the best watch I've ever had, custom-made and most reliable."

One watch, Seiko Prospex, supported Mr. Miura so he could "Keep Going Forward."

At the age of 88, Mr. Miura is still eager to take on challenges and move forward. He hopes to climb Mount Kilimanjaro in Africa at the age of 90. His father, Keizo Miura, skied down Mont Blanc at the age of 99, and is a constant presence in his mind. He firmly believes that "challenges strengthen your power to live," as he wrote in his book, Yuichiro Miura: Only Humans Can Challenge the Limits, published by Heibonsha.

He writes, "Never give up on anything. To keep moving forward, you must never give up and stick with it to the end."