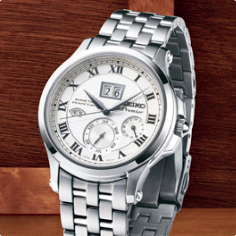 Kinetic Perpetual combines the beauty of a classic mechanical perpetual calendar, correct until February 28, 2100, with the advantages of Kinetic – powered by the movement of your body – perpetual quartz accuracy, and up to 4 years autonomy when not worn.

This caliber is a triumph of classical watch-making and modern microelectronics. With 232 parts, which is almost the same number as other high-class mechanical chronograph watches, and the specially designed ultra-sonic motor that is just 0.4 mm thick, the Kinetic Perpetual caliber sets a new standard in Perpetual Calendar watches.

This 0.4 mm thick ultra-sonic motor is the only motive energy for the 101 parts in the mechanical gear trains of the Perpetual Calendar which correctly displays not only date and day, but also months, including February of leap years.

This remarkable calendar is also governed by a photo sensor, which recognizes a certain mark on each gear and judges, and corrects the date, day, month and year, including February of leap years.

The caliber also incorporates Seiko's unique Kinetic Auto-Relay technology. It is powered by the movement of your body with Kinetic Perpetual quartz accuracy and reliability. With Auto-Relay, the watch will, when not worn, operate normally for 6 months on a full charge, after which it goes into "sleep" mode for up to four years. The accuracy remains and the calendar continues to show the correct date, month and year, but the hands stop, conserving energy, until, once the watch is put on again, the hands automatically reset to the correct time.
Caliber Specification (Caliber 7D48)
Powered by the movement of your body
Perpetual calendar correct to the year 2100
24 hour hand
Month hand
Leap year hand (7D46 / 7D56)
Leap year disc (7D48)
Power save function
Time relay system preserves accurate time up to 4 years