Presage. A worldwide success
and the new step forward
It was at Baselworld 2016 that Seiko announced the international launch of the Presage collection. Thanks to a diversity of designs, outstanding value for money and a wide range of calibers, Presage has captured the hearts and minds of lovers of fine mechanical watchmaking the world over. Wedding artisanal skill to advanced technology, the Presage collection links Seiko's past to a future of full of potential.
The craftsmanship of engineering
The new Presage limited edition features a new caliber, 6L35.
Caliber 6L35 is completely new and distinguishes itself from the trusted and much admired 6R15 caliber by its slimness and its accuracy. At 3.7mm deep, it is 1.3mm thinner than 6R, and it is accurate to within +15 to -10 seconds per day. To emphasize the slimness of the caliber, the new limited edition has a new case structure that gives the watch a slim and graceful profile. Together, the movement and the case are a mere 9.8mm in depth.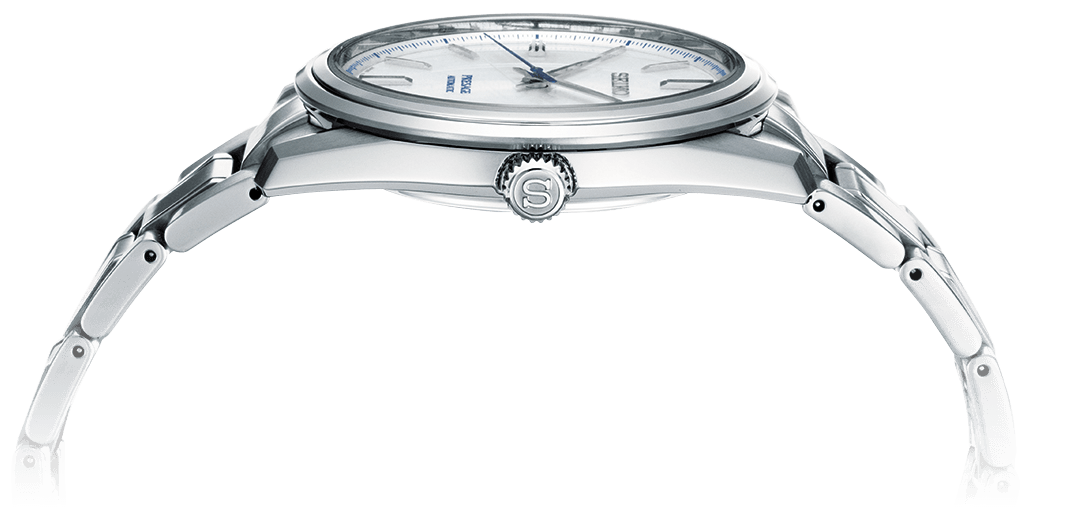 Engineering a graceful solution
The new construction involves inserting the movement into the case from the front, enabling the sides to be angled inwards and thus allowing the watch to sit more closely and comfortably on the wrist. To allow the watch to be opened when a service is required, a screw-type bezel is used but it is, in turn, covered by a secondary bezel that hides the spanner grooves and thus preserves the smooth lines of the watch design. An elegant solution, combining advanced engineering and skilled watchmaking.
Hand polishing for perfect surfaces
The case is Zaratsu polished so that its surfaces are distortion free and they are protected by a super-hard coating to preserve the watch's beauty for years to come.
A blue second hands and
an elegant dial pattern
The sapphire crystal is also treated with a super-clear coating to ensure complete legibility and to allow the wearer to enjoy the delicate, textured pattern of the dial and the tempered blue second hand. Craftsmanship has a timeless beauty of its own.
Seiko Presage
2018 Limited Edition
SJE073J1
Limited edition of 1,881 pcs